The world's largest cryptocurrency casino, or Stake for Plinko, has fallen victim to a hacking incident. Security measures were breached, resulting in an estimated withdrawal of over $40,000,000 from the system. Despite the hack, the platform has now restored the withdrawal option.
Stake Casino was founded in 2017 and quickly became a market leader. The platform primarily focuses on slot machines and sports betting, but it also offers games like blackjack, poker, and baccarat. Stake stands out from other casinos as all transactions are only possible in cryptocurrencies such as Bitcoin, Ethereum, Dogecoin, Ripple, Tether, and others.
How and When the Stake Casino Was Hacked
On September 4, at about 12:48 (GMT-4), the first transactions were discovered on the account of hackers: they transferred the stablecoin Tether for $3,900,000. An hour later, approximately at 13:50, Ethereum worth over $15,700,000 was withdrawn from the system. Then the hackers began to act more actively and in a couple of minutes they deduced:
USDC worth $1,000,000;
stablecoin DAI for $900,000;
Polygon, worth about $7,800,000;
BSC is worth approximately $17,800,00.
Although Stake has not made an official statement, analysts have found that approximately $40,000,000 has been withdrawn in total. The hackers divided them among several accounts. According to CYVERS security analysts, the withdrawal account was tagged as Stake.com Hacker. This may mean that the funds were drained due to the theft of the private key.
Consequences of the Stake Casino Hack for Players
The attack on Stake Casino did not affect players' funds. This was confirmed by the platform itself, which issued a corresponding statement on the evening of the attack. It stated that Bitcoin, Litecoin, and XRP wallets were not compromised. However, the attack did impact the hot wallets of ETH/BTC. The platform has not disclosed the reason for the attack or the official amount of stolen funds.
Five hours after the presumed attack, Stake Casino resumed deposits and withdrawals. The Twitter announcement also mentioned that players' funds are stored in wallets with enhanced security measures that are impervious to hacking. Is this indeed the case? Only time will tell as we continue to monitor the situation.
The Reaction of Players to the Hacking of the Casino by Hackers
As soon as the first attempts to steal funds were noticed, Stake players reacted actively. Some tried to find out if their money was safe, but most of the players were urged to withdraw funds from the account as soon as possible.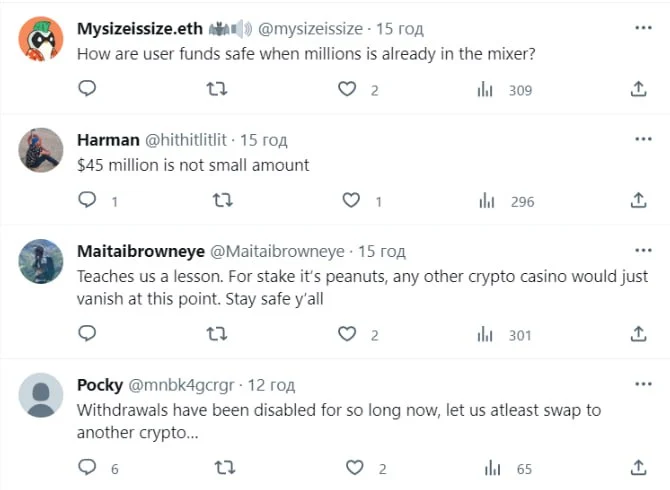 Moreover, some players doubted the fact of the theft and took the statement of Stake Casino as an obvious fraud. Someone in the comments even asked for special bonuses and incentives for those affected.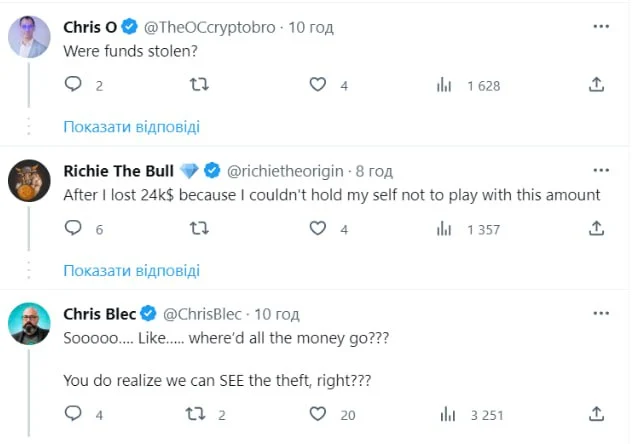 Final Conclusion
The situation continues to evolve, but it is now evident that it is advisable to consider other casinos. Good alternatives would be the platforms Pin-Up, 1Win, BC.Game.
This material was prepared by the gambling expert Thiago Alves