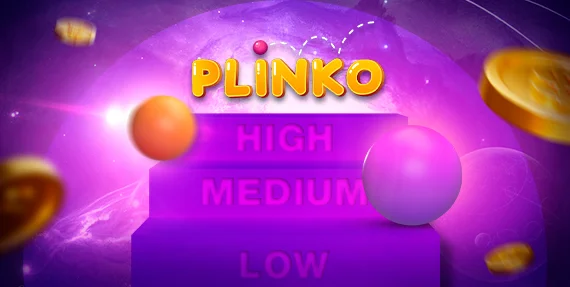 There are three risk levels in the Plinko online casino game, each offering a unique game approach. By choosing one, you determine your own chances of winning and the maximum winnings.
With low, there is a great chance of being in the black, yet with modest payouts.
At medium level the chance of winning in Plinko is reduced, but the possibility of getting a large payout is higher.
At high, the chance of winning is minimal, but if victory is on your side, the payouts can be spectacular.
Below is an example of level possibilities in the game:
Plinko by Spribe
Number of lines
Level
Multiplier
12
14
16
Low
minimal
0.5
0.5
0.4
maximal
11
18
35
Medium
minimal
0.3
0.2
0.2
maximal
25
55
118
High
minimal
0
0
0
maximal
141
353
555
Users play at any level, based on their budget, tactics and overall goals. However, there is the best Plinko strategy from experienced gamblers: planning the bankroll for the entire session before starting to play Plinko at the online casino.
Plinko can be played with a small budget. Remember that the results are always randomly generated. This means that gamers have to wait for good odds in the Plinko game from 1 to 15 rounds. So to play this slot effectively, your budget should be enough for about 100 to 200 rounds.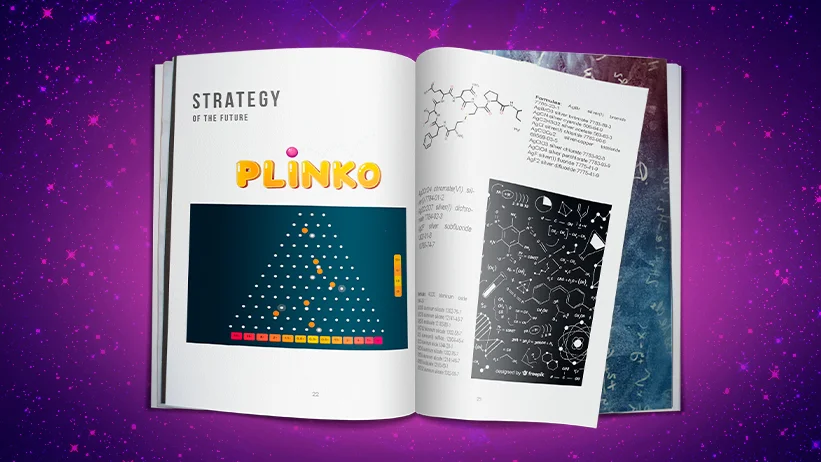 Low-risk strategy for Plinko
Since Plinko is a popular game, many developers came up with their visions of low risk levels. In Spribe it is the choice of the green ball. If in the game it hits the central cell, the gamer loses no more than 0.5 of his bet. In Plinko from ELA Games there are minimum multipliers of 0.6 on the side cells and in the middle.
Despite the differences in design and game configurations, such as the number of lines, there is a certain Plinko strategy suitable for everyone. Its essence is to play by making small bets (0.5-1% of the bankroll) and stay on the course as long as possible. The frequency of 1.1 or 1.5 odds is very high, so regular small winnings often cover losses.
If you play Plinko by Spribe, after a dozen rounds, the possibility that the chip lands at x11 is very high. In Plinko by Stake, if you choose 16 rows, the maximum multiplier at low risk will be 16, just like in BGaming. ELA Games and 1x2gaming provide a maximum multiplier of 10 on the low risk.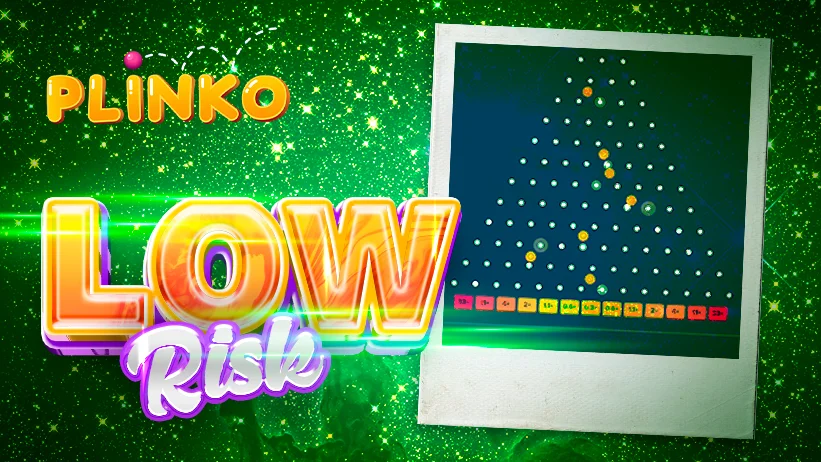 Medium-risk strategy for Plinko
Playing at the medium level implies more budget expenditure, but the odds are correspondingly higher. In Plinko by Spribe the medium level is indicated by yellow balls. And on the line, the color of which corresponds to the color of chips, there is not one, but three losing multipliers. Winning cells from x11 go up to x25. And if you play with 16 pins, the minimum multiplier will be 0.2, and the maximum will be 118.
Other providers denote this level in the game by words "medium", "mid", "normal". While playing Plinko from BGaming, we see that the number of losing cells equals three. If you choose 8 lines with pins, the minimum coefficient there is 0.4, and also there are two 0.7. On the 16 lines we see coefficients of 0.3, 0.5 and 0.5. The maximum multipliers also increase depending on the number of rows: if the field has 8 rows, the maximum multiplier is 13, and for 16 rows the maximum multiplier is 110.
When playing at this game level, do not be in a hurry to make large bets, it is better not to exceed 1-2% of your bankroll. Yes, your budget will be spent faster, but the chance of getting multipliers 1.2 or 1.8 is quite high.
Your task is to play by staying in the range as long as possible to increase your chances of winning. At the same time, remember that the tactic of waiting for the maximum odds in Plinko can be risky, so it is important to play responsibly and control your bankroll.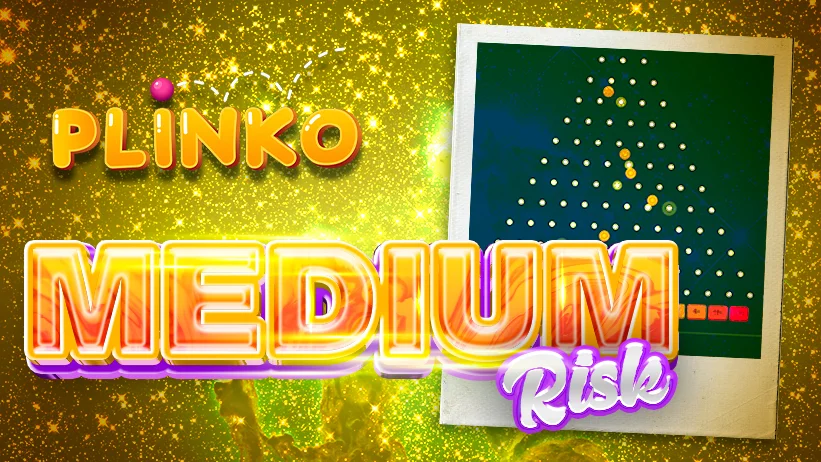 High-risk strategy for Plinko
A high-risk strategy involves pushing oneself to the utmost potential or capacity. For example, in Plinko by Spribe, the high level is indicated by red balls. At once 4 cells take away part of the bet, and the central cell multiplies it by 0. Where there is a high probability of losing, big winnings are sure to be present. On the red level they are really impressive: playing on the 12 lines can be multiplied by 141 times, and playing on the 16 lines as much as 555 times!
In Plinko from 1x2gaming with high risk on 8 lines you can multiply your bet by 30, and on 14 lines — by 420! It also increases the number of losing cells: playing on 8 lines, there will be three losing cells in the center (x0.3, x0.2 and x0.3). Playing on 14 lines, there are five (x0.3, x0.2, x0.2, x0.2 and x0.3).
This tactic is suitable only for the most gambling and fearless users who can afford to take risks, waiting for the ball to hit the high cells. It is important to remember that this level can lead to big losses, so you must be prepared to drain the entire bet.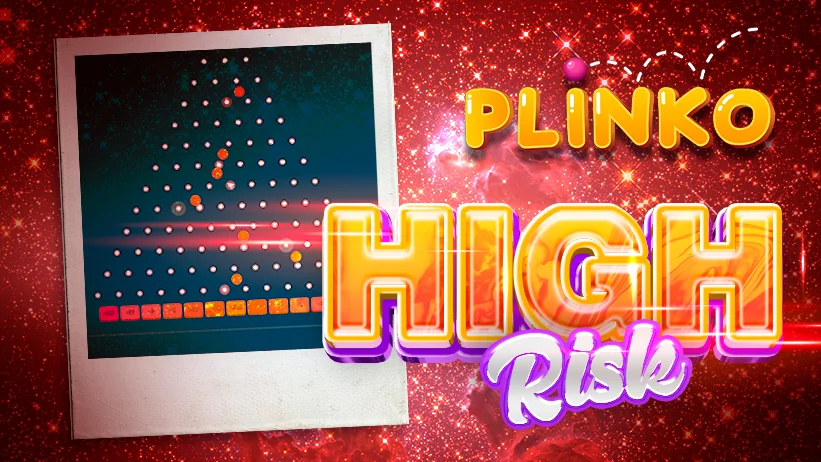 Frequent questions about game strategies
What is the right strategy for beginners in Plinko?

If you are just starting to play Plinko, it is advisable to use a low-risk strategy, making small bets and staying on the course as long as possible. This will help you learn the peculiarities of the game without throwing large sums.

Is there a strategy that guarantees winning at Plinko?

Unfortunately, there is no strategy in Plinko that guarantees winning. Every roll of the ball is a random event, and no tactic can influence the result of the game. But there are many tips for winning casino games from experienced gamblers, worth your attention.

At what winnings is it recommended to stop the game?

It is recommended to determine in advance your limit and, when it is reached, to stop the game to avoid losses. It is essential to remember that in gambling there is no guaranteed winnings, and the player is always at risk.

What is the maximum winnings at Plinko?

The maximum winnings in Plinko depend on:

bet in the game;

the developer and the casino (in Plinko by Spribe the maximum bet is 100 euros multiplied by x555, in Plinko by BGaming is 100 euros multiplied by 1000, in Plinko by Stake is 2,500 euros multiplied by 1000);

places where the ball hits the cells.
Our expert's opinion
Plinko is a game where everything depends on luck, not pure strategy. There is no specific betting strategy that guarantees victory or hitting the high-paying boxes. However, the randomness and emotions of excitement make Plinko a very entertaining game.
The ability to choose your level and other game settings is what makes this slot so popular. A low-risk strategy provides constant small winnings, while a high-risk strategy gives you a chance to hit the jackpot with a large payout. Launching by choosing a high risk should be with a large bankroll, and with the readiness for the fact that you can lose more money.
We recommend that you set a win/loss limit before you start playing and stick to it. This will help avoid chasing losses in the game. It should be noted that patience in Plinko is also the key to success, that is, do not rush to spend your bankroll, as large payouts may not appear immediately.
The maximum amount of profits in Plinko is determined by the casino through the betting limit, and also differs in different versions of the game. The chances of breaking the big score playing in Plinko grow when you bet on the maximum number of pins, where the biggest payouts are. Choose a strategy and have fun!
Thiago Alves , an expert in the field of online casinos.