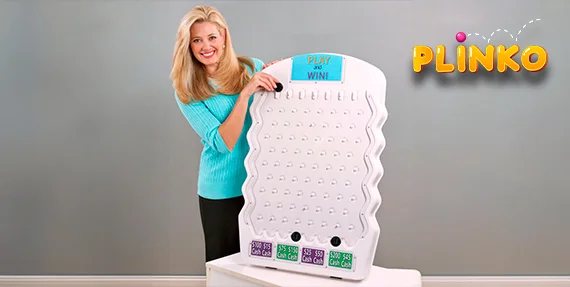 The Price is Right was a hugely popular and adored television show by players and viewers alike. It offered a unique combination of excitement, interactive experience and the chance to win great prizes, which was a key factor in its popularity. This timeless show with a rich history of over three decades, provides a delightful and captivating experience.
Plinko is one of the most exciting bonus games in The Price Right Plinko slot machine, as it gives 100% of the winnings in any casino. Whether you are looking for an entertaining gaming session, it is a fantastic option. It offers simplicity in learning, and with a range of thrilling variations available, you can tailor your experience to match your preferences and mood.
The Price is Right Plinko Slot Machine
It is a virtual version of the game based on the popular TV show The Price is Right. It attracts the attention of gamblers with its unique gameplay and the opportunity to win a variety of prizes, creating an exciting atmosphere. It is worth noting that in this online slot machine, the design of the playing field is exactly recreated from the show, which adds to the authenticity and recognisability of the game.
Plinko Price is Right Interface and Design
The Price Right Plinko is developed by IGT, a company specializing in the development of gambling entertainment for online casinos. Located on 5 reels with 25 paylines, this slot has a variable payout percentage from 92.89% to 96.25%. By playing The Price Right Plinko you can win a variety of random prizes and increase your bet by x1000. During the game bonus rounds are activated: Punch a Bunch, bonus called Big Wheel, Plinko, Cliff Hanger, which offer extra chances to win, the opportunity to get free spins and multipliers.
The game interface in Price Right Plinko will immediately immerse you in a colorful environment, accompanied by sound effects that are completely reminiscent of television. The board here has 10 lines with pins arranged horizontally, forming a rectangle (not a pyramid as in most games from other providers). The cells at the bottom have prizes ranging from 50 to 1000 coins, which are multiplied by x2-x5 relative to the number of pins in the slot.
The + and – signs around the TOTAL BET section are used to set the bet amount. If you are playing a demo version of The Price Right Plinko, you can use any amount. After setting the bet amount, click on the big round button in the bottom right corner to spin the reels once. You can also use the small button next to it to spin the reels automatically (10, 20, 30, 40, 50 spins). Keep playing until you win a prize or start Plinko game.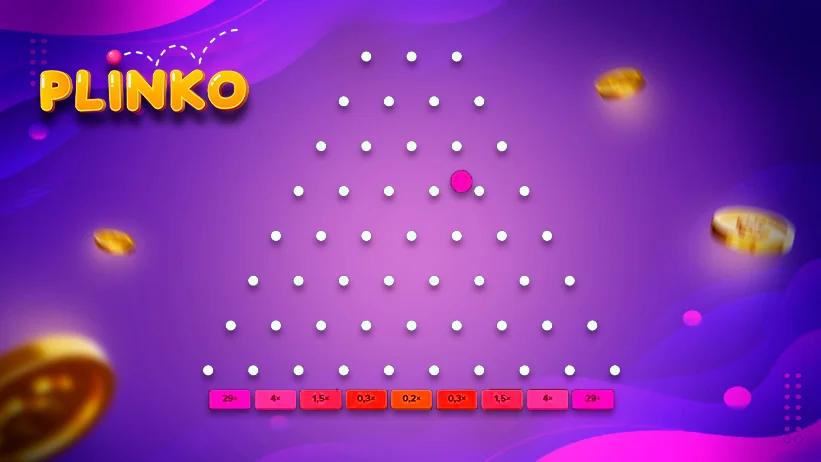 Winnings at Plinko
In general, the theme and symbols of the slot are taken directly from the original game show. It is as if you are really a part of it and play with Bob Barker. The Price Right Plinko game was introduced to online casinos in 2019, so it has modern graphics and animations. It offers 3 chips with increasing multipliers.
The first chip multiplies by 1 or 2.
The second chip gives a multiplier of 2 or 3.
The third chip gives a multiplier of 3 or 5.
For each dropped chip you will get a win, which will correspond to a cell in the slot, multiplied by the coefficient of the chip and multiplied by the size of the bet per line.
The payout table of The Price Right Plinko is fixed. All payouts listed below are in coins, not euro. To get the actual winnings in euro you need to multiply the number of coins by the bet in euro. The highest paying symbol is the Wild, which gives players the opportunity to increase their total bet by up to x1000 on a roll of five of these symbols. Wild replaces all symbols in the slot, except Bonus. Winnings are formed along the lines, starting from the left and moving to the right, and are multiplied by the bet amount on each line.
| | | | |
| --- | --- | --- | --- |
| Symbols The Price Right Plinko | Payouts х3 | Payouts х4 | Payouts х5 |
| Wild | 100 | 250 | 1,000 |
| Car | 50 | 150 | 500 |
| Jet ski | 30 | 75 | 250 |
| Bicycle | 25 | 50 | 200 |
| A | 15 | 30 | 150 |
| K | 10 | 25 | 100 |
| Q | 8 | 20 | 75 |
| J, 10 | 5 | 15 | 50 |
Bet sizes in Plinko Price is Right
The size of bets in the slot always depends on a particular operator. Each casino offers its own bonuses, minimum and maximum bets. We present you a table with proven licensed casinos where you can try your luck playing The Price Right Plinko.
| | | | |
| --- | --- | --- | --- |
| Casino | Bonuses | Minimum deposit in euro | Maximum deposit in euro |
| Novibet | 100% up to 5000 euro and 50 free spins | 10 | 10,000 |
| Codere | 10 euro free bet and 20 euro casino bonus after the account verification | 10 | — |
| Betsson | Cashback up to 100% (up to 20 euro) | 20 | 10,000 |
The minimum bet value in The Price Right Plinko is 0.01 coins per line and 0.25 coins per spin. The maximum bet value is 20 coins per line and 500 coins per spin. In the free slots version you get a bonus pool of 1,000 coins.
Bonus round
To activate it in The Price is Right, Bonus symbols must appear on certain reels of the slot. The number and position of Bonus symbols may vary depending on the specific version of the game or online casino. Usually three or more Bonus symbols on active paylines are required to activate the bonus game.
Other bonus games like Plinko:
Punch a Bunch. This feature in the slot is random and can appear before the base winning spin, not as in Plinko. Here it is possible to either accept or reject the offer. It should be noted that you can reject offers three times, because the fourth offer in the slot automatically becomes a winning offer.
Big Wheel Bonus. To activate this bonus in the slot, you must roll at least three Scatters on the first, third and fifth reels. Rotation of this wheel gives multipliers, Plinko and Cliff Hangers. Multiplier values range from x25 to x1000.
Cliff Hanger. This is a bonus feature of the slot, in which the hero Yodele Guy appears, walking on a cliff with multipliers. Here, players qualify for free spins no matter what multiplier Yodele Guy steps on. When he reaches 25 times the multiplier, the feature ends. However, players should keep in mind that it is not always possible to get multiplied winnings here, while in Plinko the winnings are 100%.
Games based on TV shows
There are many other casino attractions and slots that take inspiration from popular television shows like The Price is Right Plinko. Here are a few examples of such ones:
Deal or no Deal;
Monopoly live;
Plinko slot;
Crazy time;
Dream catcher;
Wheel of fortune;
Cash or crash.
These are just some examples of casino games based on television shows like Plinko slot. These are usually popular because they combine elements of show and excitement, creating an engaging and interactive experience for players and viewers.